Join us to Inspire Change Across the Range!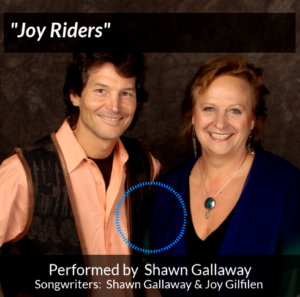 Joy Riders is a song I originally wrote to inspire myself to step beyond the norm to take on HUGE CIVIC ACTION in a world under stress!  I learned years ago that FEAR mongering is deadly.  After the turn of the century and 9-11 our world changed, and fear was rising – and I needed something to keep my courage moving forward. So I wrote this for myself and sang it to an old cowboy tune!  Then I started looking for people who were doing inspiring work, and looking for musicians who were on the leading edge.  I met Shawn Gallaway in 2010 at a conference where he was performing I Choose Love.   Shawn has recently received two music peace awards!  He was written hundreds of songs that have inspired people and movements around the world!
We teamed up to produce the film ChoicePoint – Uniting Creatives with Love and Vitality; to produce Shawn's album Livin' Love, and to produce the concert called Conscious Music, Conscious Nashville in 2011!  Go to ShawnGallaway.com for more!
We are working to inspire people to team together and to bring conscious change, civic leadership and personal activism together.  Over the next few months I will be building a Joy Riders Club to inspire passionate action.
Joy wants to introduce our listenership and supports to our affiliates and affiliate programs.