Joy Gilfilen, Founder of The Joy Academy
Joy is a research philosopher at heart, a human achievement coach by training, and a civic leader by necessity.  A true "mother of invention" she had developed a comprehensive body of work for inspiring human courage, for developing civic leadership skills and doing systems development that honors the nature of life itself.  Her models are simple, learnable and usable by anyone who wants to be happy as we 1) live our lives in personal integrity, 2) do the right thing relative to others, and 3) leave the world better than we found it.
Joy has spent her life studying Mother Nature, human nature and the nature of humanity as a species.  How does it all work?  Why are we here, where are we going, and how do we work inside and outside of different systems?  What makes us tick? How do we live into our magnificence individually and as a species when there are so many human-made systems that are set up to destroy us?  How can we be happy and stop destroying the natural world that feeds us?
After running for sheriff in 2019, Joy finally realized her research work was done.  She had achieved three things:
Met her own personal standard of excellence in civic leadership
Proven that people of divergent backgrounds could cross silos to support peace
That it was possible to engage people to step beyond fear to enbrace a whole new concept of justice system reform
Joy started studying the nature of nature as a young farmgirl in 4-H observing the birth and cycles of life, the stars and tides, the immense cultural diversity across continents.  It was a extraordinary world to observe as she herded cows, experienced storms and watched humans at war.
In the 70's she became a teen leader and got active in community affairs and business in her high school years.  Early in her 20's she was industriously studying politics and police work; news, networks and non-profits; the real estate and free enterprise industry, then  got into education, marketing and the physics of global change.
All the way along she was researching how the world worked – and her interests about science and the mechanics of how to change the world bloomed when she became an Executive Technical Assistant at SPIE – then the International Society and how the systems replicated, evolved and produced results that were either constructive or destructive to the natural world – the world her children would be inheriting.
As a mother, that distressed her, and she started researching how business, nature, and systems intersect, collide, converge and move through times and across cultures.  She has not completed 30 years of marketplace research into business systems, the natural and behavioral sciences, human achievement methods, community enterprise & collaboration, the healing arts and education to understand how humans can work with natural principles to change how we do things in society.
Her goal was to understand the nature of human nature as a complement to Mother Nature, as different from being competitive with her.
As a result, over the decades Joy grew from being a young community activist in 4-H, to being an independent entrepreneur and business coach as a mother, and then into a national sales trainer, and eventually into a civic leader as an elder researcher.  She learned that nature works naturally – and that humans achieve their highest potential when they team up with nature, rather than compete.  To achieve optimum results in business and community projects she learned to use natural models for troubleshooting and tranforming problems into opportunities for improving lives.
Today Joy has developed tools for coaching human development, for aligning business enterprises with natural principles, and for managing change in communities in healthy ways.
Online Course #101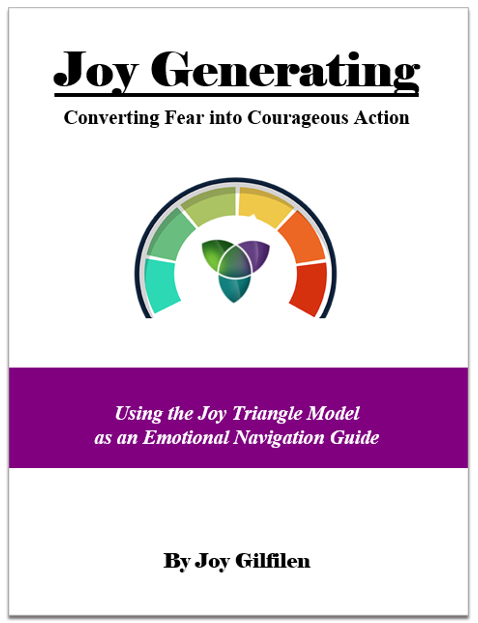 Joy's research and programs for personal, professional and public leadership are being produced, then released in sequence in 2021 for broader distribution.  It will be taught online in webinars, discussed in JoyTalk episodes with civic leaders, and will be produced and published through e-books and in online coaching programs.  
1) To be an early adopter and the first to know and use her models, subscribe to her newsletters.  You will get charts, tools and lots of information free simply by subscribing. 
2) To contribute to and support Joy's work, you can donate directly to her through Patreon – for it costs money to do the marketing and tech support.  Joy is an independent researcher who did much of this work as a volunteer, so funding would help her get the material to market faster. 
3)  You can be the first to receive her materials and become a student, you can: 
Join the Joy Academy at https://www.patreon.com/JoyGilfilen and subscribe with a monthly contribution.